Remember this beauty from the
Sugar and Spice
baby shower?
Here is a step by step on how to make one yourself.
Materials I used:
Vase (I bought this wide mouthed vase at Ikea for $.79)
Diapers- Preferrably white (I used about 40 Pampers Swaddlers newborn size)
Foam Ball (I used a 4" diameter)
Foam block
Wooden Skewers
Clear elastic bands (I use the Goody brand clear hair elastics)
Tulle
Tissue Paper
Lace
Ribbon
Glue Gun
**Note: Amount of diapers used will depend on how big your foam ball is, the size diapers you use, and how closely you place them together.**
Step 1:
Prepare the Vase
I Took the foam block and cut it so it fit inside
I stuck one of the wooden skewers through the foam block and snapped it so only about 3.5 inches were sticking out the top
Then placed the foam ball on top.
You may need to adjust the foam block size so that the foam ball sits perfectly inside the mouth of the vase
Once I had it nice and cozy I took it all out then lined the inside of the vase with tissue paper and replaced the foam.
Step 2:
Prepare the Diapers
First roll each diaper up, starting at the open end, and ending at the folded end like so.
After it's rolled, wrap a clear elastic around it to keep it together.
Then stick the skewer through the rolled diaper.
Step 3:
Arrange
Now, beginning at the top and working your way out, stick the skewers into the foam ball.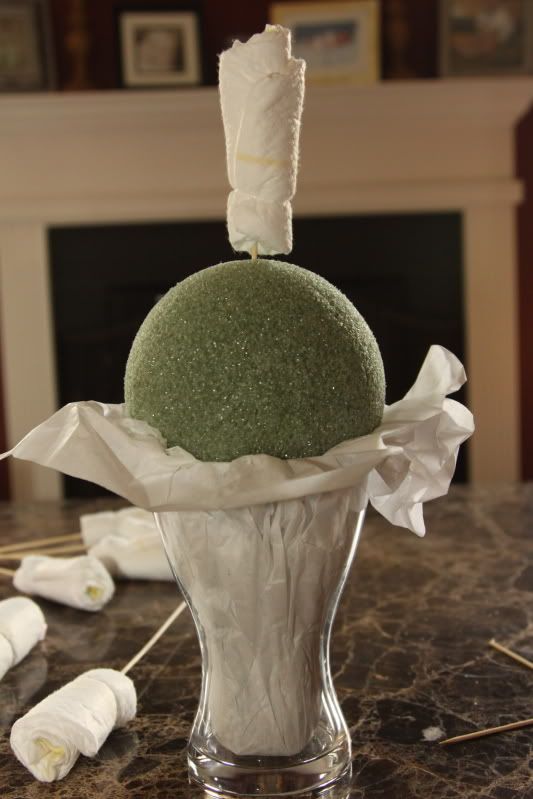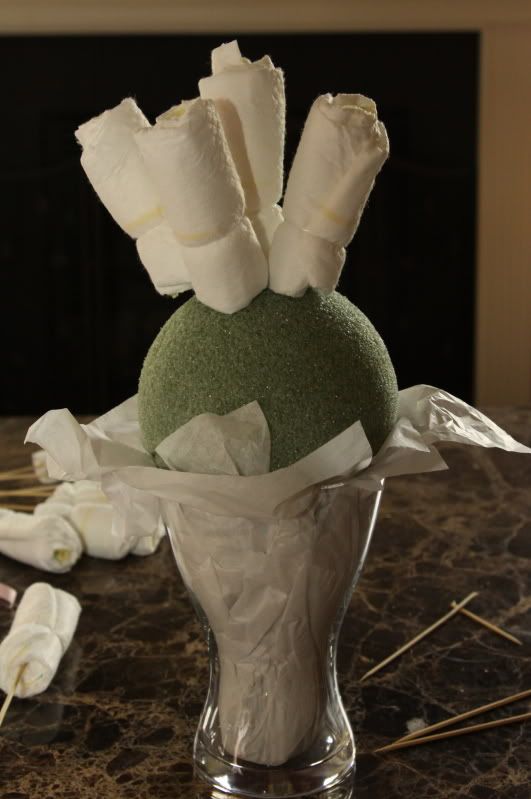 I found the skewers to be too long, so I broke each skewer before sticking it in leaving about
3-ish inches from bottom of diaper roll to tip of the skewer.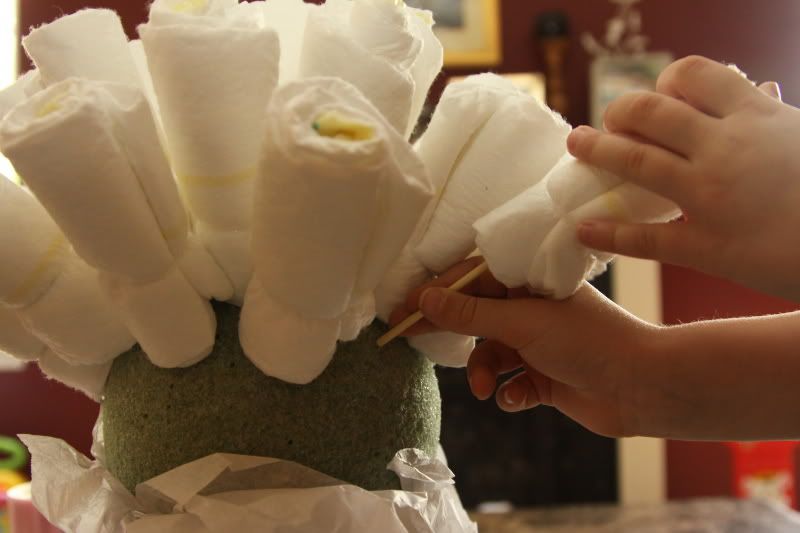 Now it should look like this
Step 4:
Embelish!
We need to hide the foam ball in between each diaper roll.
Start by cutting out squares of tulle.
Then fold together and place in between each diaper roll.
I glue gunned on a little lace and ribbon to the base of the vase to make it match it's fancy contents.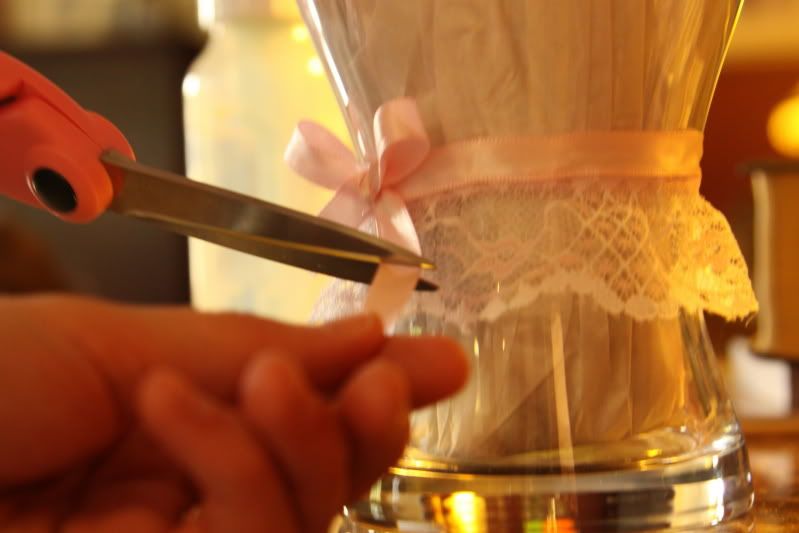 And VOILA!!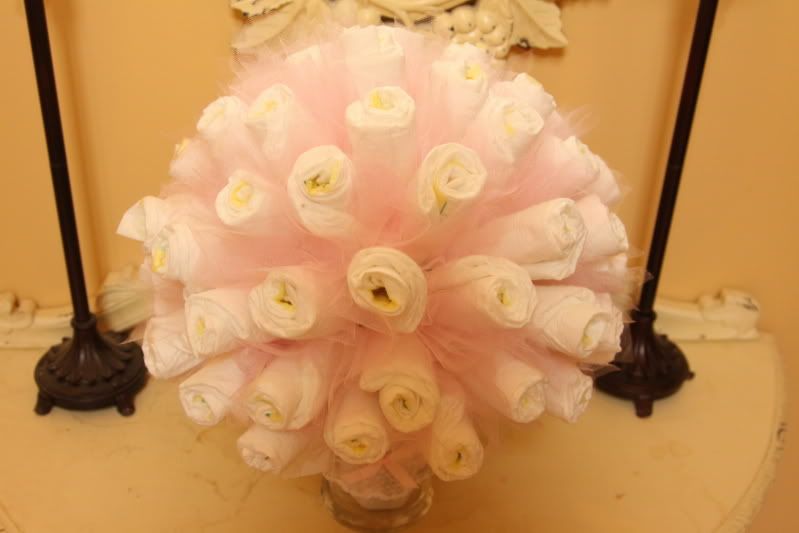 ******** UPDATE********
After making a bunch of these I have found that it is easier to cut the tulle and after I rolled the diaper onto the skewer, I stabbed the skewer through the middle of the tulle and then stuck it through the foam ball.
Keeps everything uniform and the tulle stays in it's place.
Featured on
The Stir, Cafe Mom
HERE
Other versions I've done…
(Click image to view post and more pictures)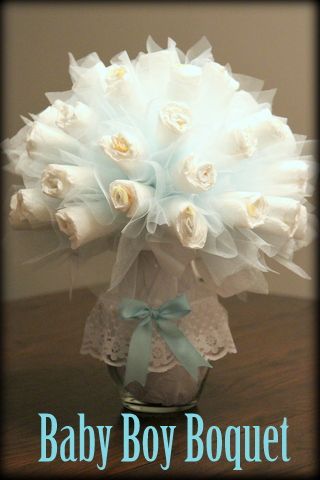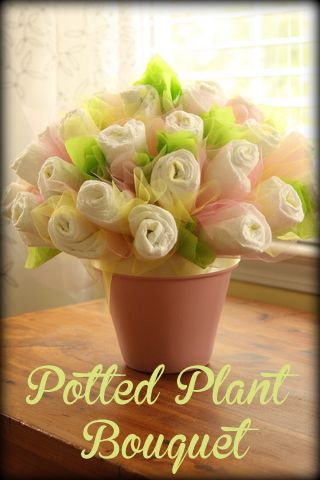 Happy Creating!!