Recently attended a "Hail and Farewell" Army retirement party for my Father-in-Law.
Now this man has everything.
Seriously, everything.
So when it came time to think of a retirement gift, my Mr. and I were at a loss as we always are with any gift-giving occasion involving grandparents.
I realized a couple years ago that the best thing to do is create something meaningful and from the heart.
I've done framed subway-art lettering out grandkids, artistic family trees…etc.
For this particular party, because it is a huge deal and should be celebrated, ALWAYS remembered and there was already a professional photographer provided (which is always my fallback.."Here! Have some pictures of your event! You're welcome!")…
I decided to do some kind of guestbook so my FIL could always remember who was there to share this special milestone day with him.
Whilst searching The Google, I found that a huge fad sweeping events of all kinds and, of course, Pinterest, is finger print trees.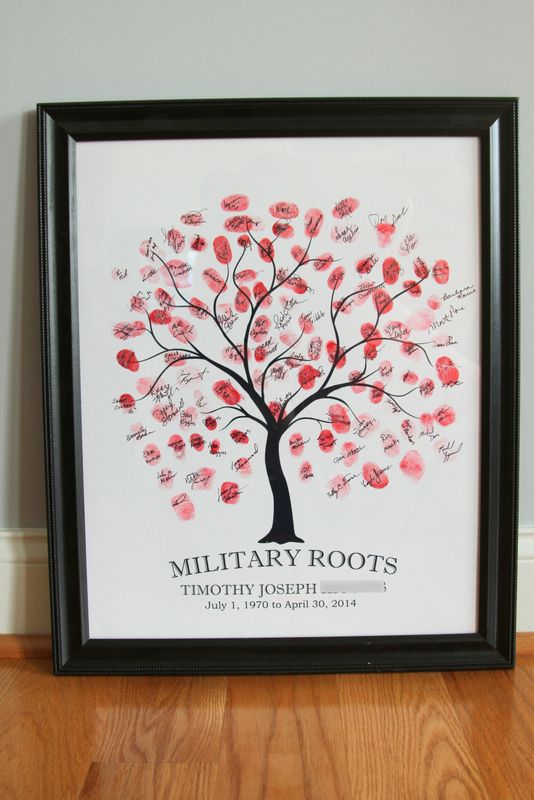 Seriously they're everywhere.
I thought what a great way to commemorate this achievement in something you can hang beautifully on your wall instead of shove onto a bookshelf, never opened and collecting dust for the past 14 years like my traditional wedding guest-book.
So the planning and creating began…
Materials Needed:
1 tree template file (see below)
Fine-Point Sharpie Markers
Archival Ink pads in desired color[s]
Baby Wipes
Instructions
I didn't have much time to spare and figured these tree things are so popular I'm sure I can find a download on The Google somewhere.
Well, I searched and searched, and yes there are some downloads but most were way too whimsy for such a manly event as retiring from the Army.
And there were some awesome hand drawn one's on Etsy if you don't mind shelling out about $200 just for the print, not including shipping and all the other supplies you'll need to pull it off.
Yeah, I mind.
Finally I found this free download on createdbyspark.com HERE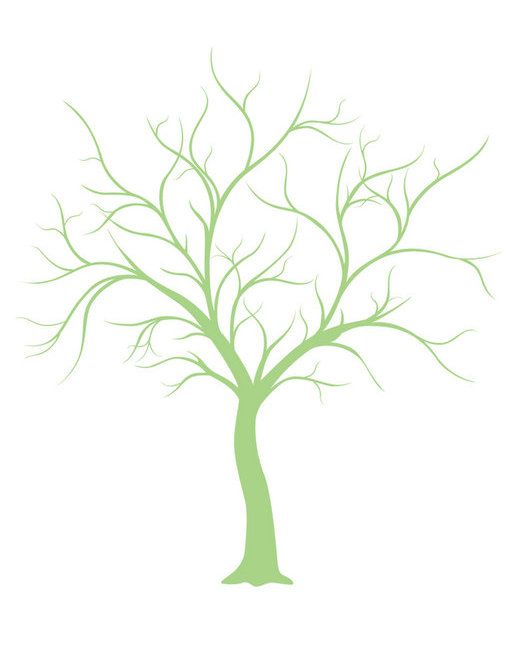 THANK YOU!!
I was starting to think I'd have to open up Adobe Illustrator and create my own from scratch!
Now for those of you who really know me, you know I'm a perfectionist fusser. I fuss over everything until it's as perfect as I can muster. It's a bit of a personal curse but the results are quite rewarding. Anyway, I can never just leave something I get from someone/something else. I have to fuss with it. Yes, recipes included.
Now this tree I needed for about 150 guests so I opened my Spark tree file in photoshop, cropped to my desired size, thinned out the branches and swapped the baby mint green for a manly navy blue.
Much better for what I need.
But if you would like the original unaltered tree by Spark, you can download that
HERE
[Thank you so much to Michael Acevedo from Spark.com for your assistance with the links!]
Next I added some simple lettering onto the bottom and the dates from start to finish of FIL's military career.
You can download my altered full resolution tree file
HERE
What you get:
I had it printed in a 16x20 matte finish (I use snapfish, good prices and there's almost always a coupon online). I suggest not using a gloss finish because it has the tendency to smear your ink)
For party display and for backing (to support fingerprint pushing), a bought a cheap 16x20 frame from Wal-Mart for $9.99 and just removed the glass (of course kept the glass in for transport and removed it after arriving…you don't want your print to get scratched!).
For the party, I do not recommend displaying your tree in the frame or matte you want it in permanently just in case there are any stray smudges or pen marks.
Just a suggestion.
At the party, have a table set up by the entry door to display the tree and all the supplies needed.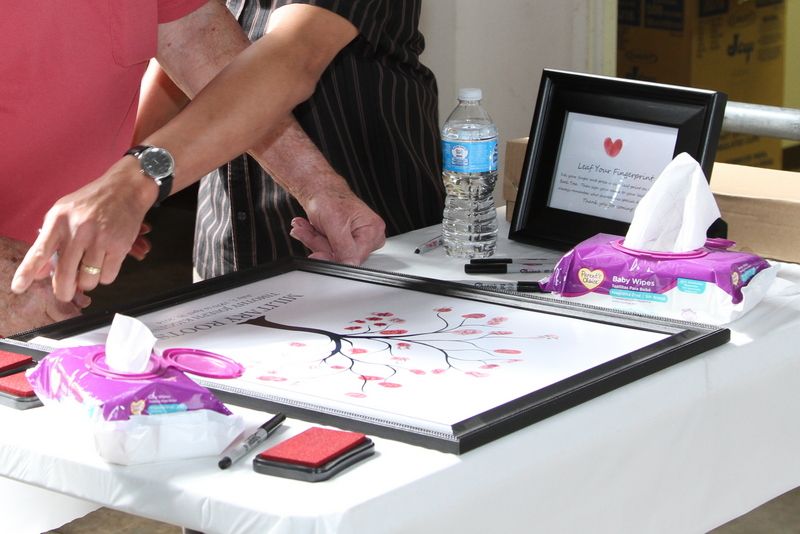 Instead of having to repeat to each guest what to do, have a sign on the table that explains what is happening here.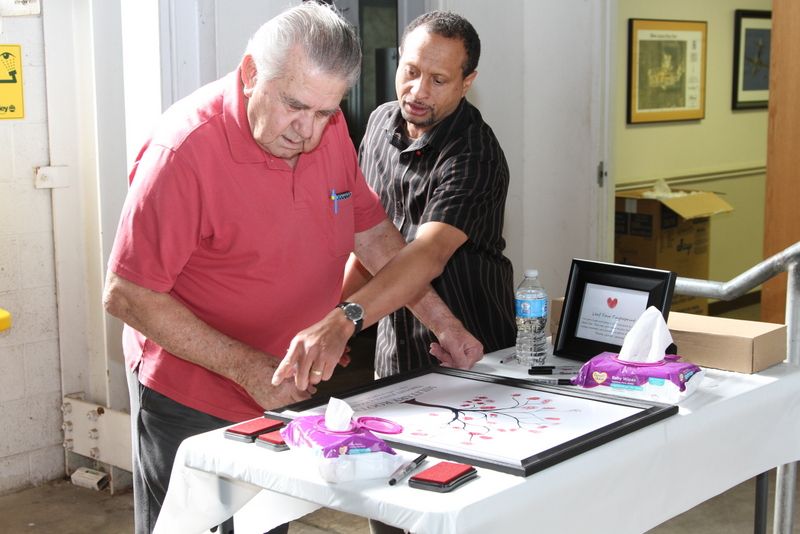 I printed instructions, added a thumbprint heart to the top and framed it pretty to display on the table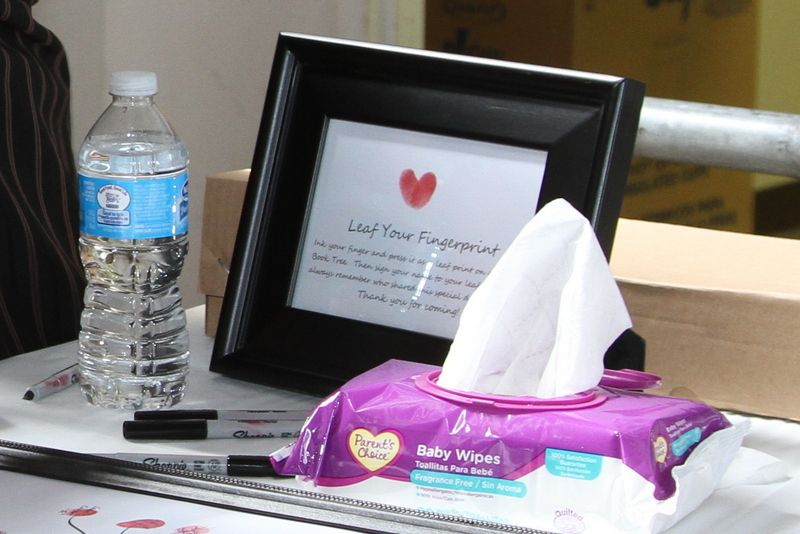 Instructions:
"Ink your finger and press it as a leaf print on our Guestbook Tree.
Then sign your name to your leaf so we can
always remember who shared this special day with us.
Thank you for coming!"
For the fingerprints you will need Archival Inkpads in the color or colors of your choice.
Why Archival Ink?
Because Archival Ink is "designed to resist fading and weathering so that it will endure for future enjoyment".
That's the idea!
To go with the American military theme, I decided on red ink (get it, red white and blue) and bought 4 pads for the party.
2 would've been fine, but hey, I'd rather have too many than not enough!
I found these ones at Hobby Lobby, who had quite the plethora of Ink type/color selections.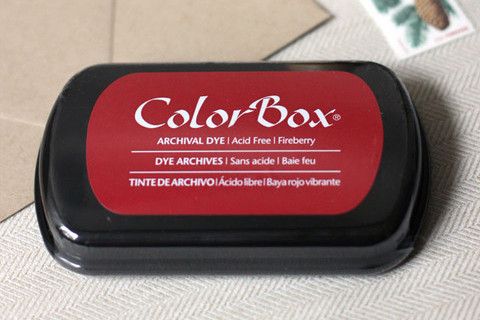 To sign the names, you'll need fine point permanent markers.
They won't smudge, and having them on the table next to the ink pads will discourage Uncle Bob from pulling out his blue ball-point and scrawling away.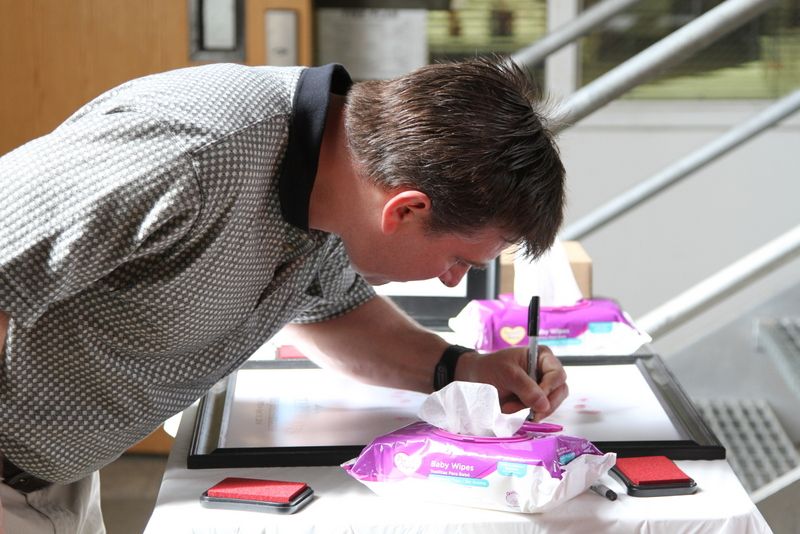 After the guest is done, have a box of baby wipes (the pop-up kind) available to wipe off their fingerprint ink so you don't end up with smears all over table-cloths, clothing, walls…etc.
Also keep a small wastebasket by the table so guests can quickly dispose of their wipe and move on into the room to enjoy the party!
I absolutely love how it turned out!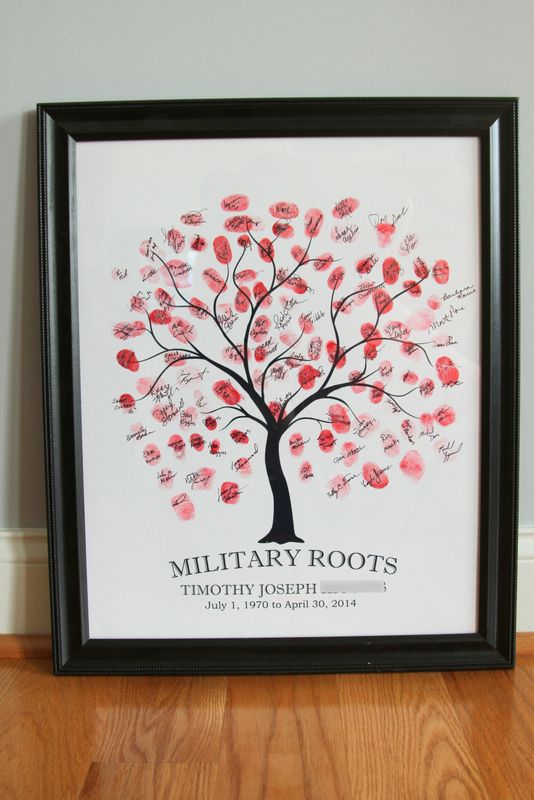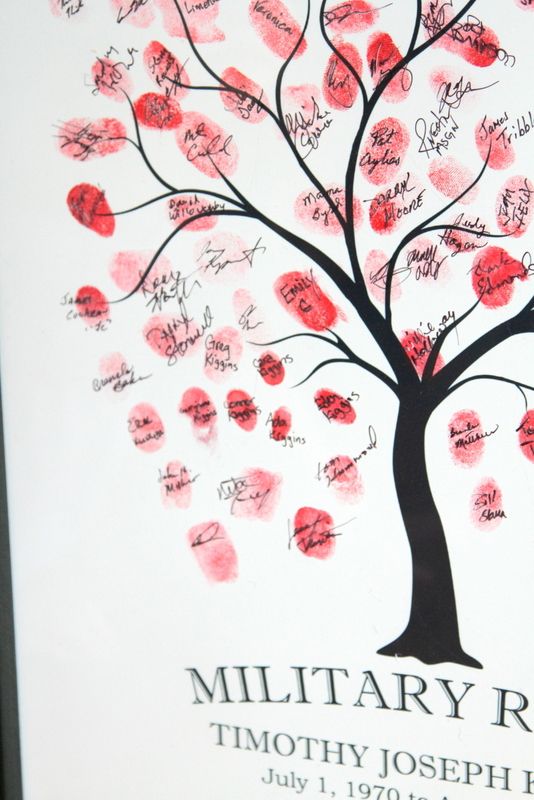 And the man of the hour LOVED it!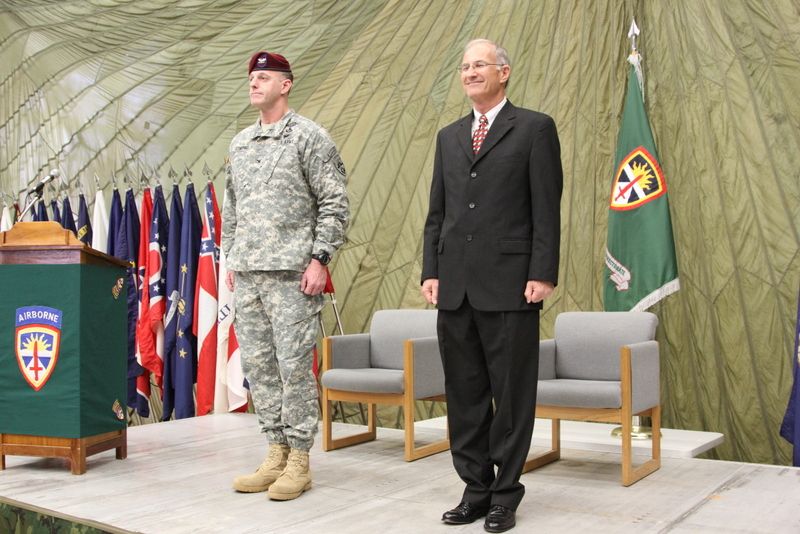 His sweet wife did too.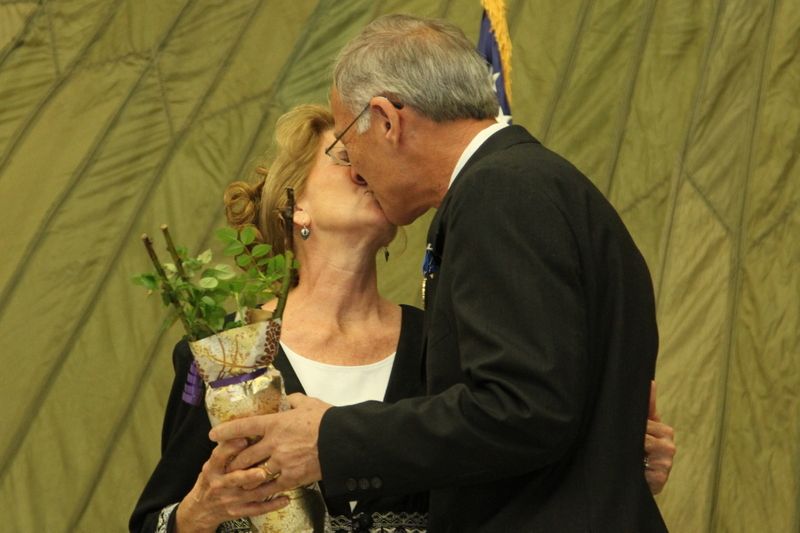 There were tears.
I call that a success!
And as a bonus, now you have a copy of everyone's fingerprints…
you know, just in case *wink wink*
It's not creepy at all.
Great memory craft and/or gift for any baby shower, wedding, end of year teacher gift (students), boss gift (employees), birthday party, retirement party, graduation party, baptism, bar and batmitvah, Sweet 16, Quinceañera... any party really!
Oh man I love parties!
Happy Creating Everyone!!
Save
Save