Today's craft?
Glitter Ornaments.
I'll give you two guesses which of my munchkins chose this one.
Hint... Ada was asleep during the votes and my mini Mr. had already voted for tomorrows funness.
Well, this one took some serious Mom brain power to try and figure out how to accomplish without making the most giant glittery mess possible.
I finally came up with squirting watered down glue into clear ornaments, dumping some glitter in there and shaking them.
We put the glitter onto a piece of paper, then folded it in half to serve as a type of funnel to pour the glitter into the small opening at the top of the ornaments.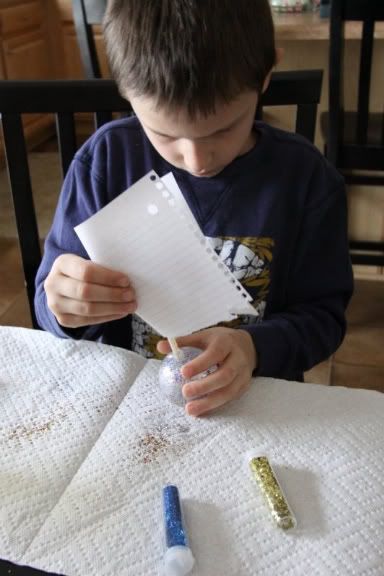 Turned out so darling and the kids thought it was the greatest thing ever.
Now, of course, we all sparkle in the glistening of our Christmas lights.
The Mr. will be so shocked to have such a shiny family to come home to tonight!
Shining with excitement because we're so excited our Daddy is home, that is!
Happy Creating!!