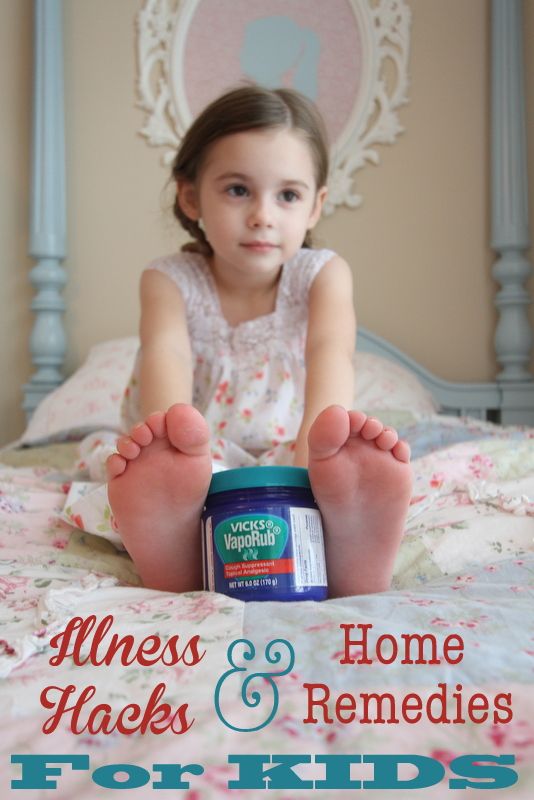 Tis' the season… for flu and cold that is.
We always get our share during these bleak months.
Last Christmas day we fought a particularly nasty case of the flu and this year we've already experienced some bronchial pneumonia.
Oh joy!
Well, as an experienced mom who has seen her fair share of all kinds of illnesses, I have a couple of illness-hacks and home remedies to help ease your little one's ailments and keep you from un-needed doctors visits and un-wanted co-pays.
And these work for adults too!!
Cough & Congestion:
For my daughter's recent bout with pneumonia and the nasty cough that comes with it, I used a trick with
Vicks Vaporub
that my Grandmother showed me.
To help ease that cough at night so your little one can sleep, generously apply
Vicks Vaporub
to the soles of their feet, then cover with a pair of cozy socks and put them to bed.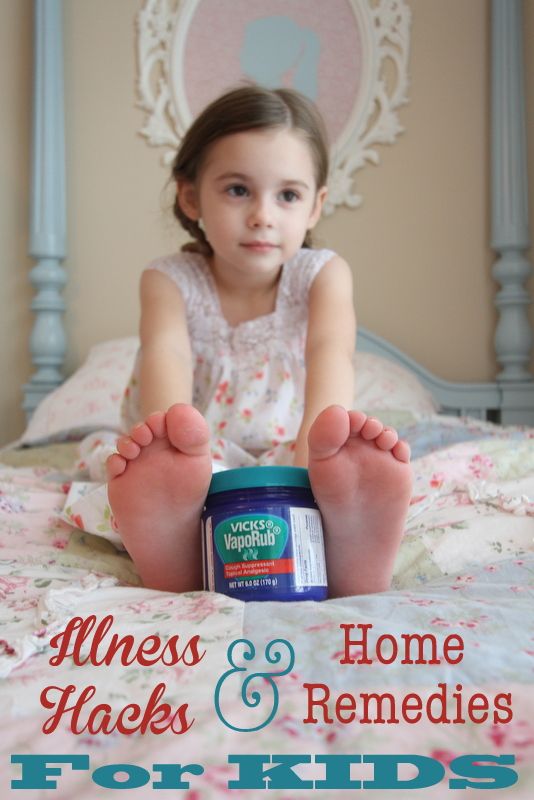 It really works!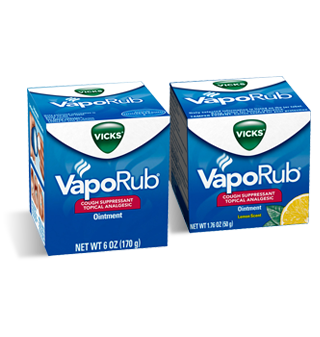 I have no idea why, but it does.
The feet are quite porous so it makes sense that it's a good spot to apply ointments and quickly see results (in this case, within 5 minutes for us). The Camphor (cough suppressant) is the main ingredient that's really what you want to get to where it needs to be as quick as possible to get some relief. You'd think applying it to the chest (as directed on the carton) would do the trick, but boy howdy, it doesn't get the same results as rubbing it on the soles of their feet. In fact, rubbing it on my daughters chest only helped clear her sinuses. The
Vicks Vaporub
did nothing for her cough until I applied it to her feet and stuck the socks on.
I recommend still applying the
Vicks Vaporub
to their chest and neck (as directed) as well as the soles of their feet to help relieve any sinus congestions (even if there's no symptoms, there could still be congestion forming) and the cough.
To help clear congestion, you can also use
White Flower Oil
found
HERE
. It's an analgesic balm that will clear you right up. Just dab a drop behind each ear.
It's a small bottle. But I've had mine for almost 10 years and it's still 3/4 full.
*Note* This is a hot oil, meaning it can burn on sensitive skin places, so only apply behind the ear of children. Don't apply right after a warm bath where pores are opened.
Nausea & Vomiting:
Vomiting has to be the saddest thing when a little one is sick.
I'm a sympathy vomiter.
You vomit.
I vomit.
So clearly I try to limit our household vomiting as much as I possibly can.
Now this is a trick for nausea that a home nurse taught me while treating me for a serious case of
Hyperemisis Gravidarum
with my last pregnancy.
She was using an alcohol swab to clean my arm before changing my IV. When she was finished, she handed the swab to me and told me to hold it to my nose and breathe it in. I obviously gave her a look of pure confusion so she explained that the smell of rubbing alcohol eases nausea. I was desperate for anything to relieve my constant nausea so I tried it. It was quite a shock to the senses, but sure enough it worked! I carry around alcohol swabs in my purse ever since. You never know when a wave of nausea will strike.
A little rubbing alcohol on a cotton swab does the same trick.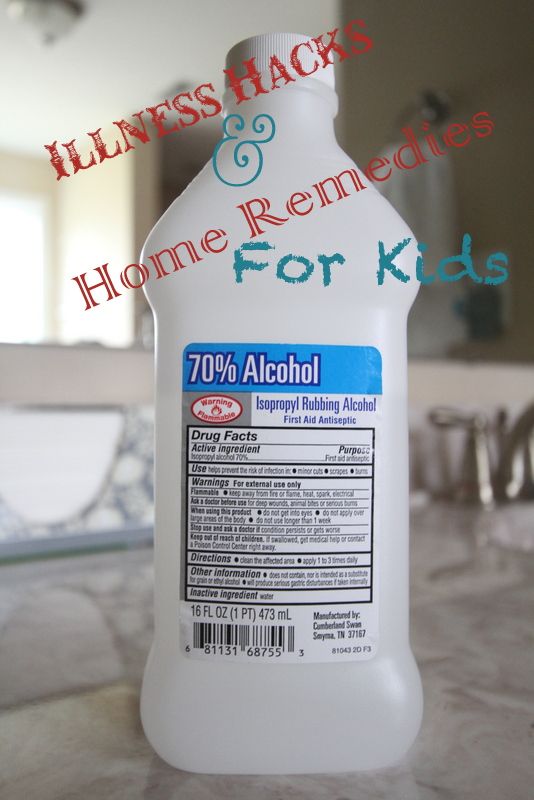 My oldest gets car sick sometimes and I remembered this trick and now keep alcohol wipes in the car for him as well.
When he starts to feel that motion sickness coming on, he opens a wipe and holds it to his nose and breathes it in. Doesn't smell great, but works every time! When my little ones are sick and say they feel like they're going to throw up, I grab an alcohol swab and it does the trick to keep us vomit free.
You can buy a box of 100 individually wrapped alcohol swabs at any grocery/drug store for usually under $5 like the ones at
CVS HERE
There's also a motion sickness oil that works GREAT on kids. You just apply a drop behind each ear.
We use Motioneaze
FOUND AT WALMART HERE
. I also keep this in my purse. It's not just for the boat or car...I use this when their little tummies are upset during an illness and it helps.
Also works great as a deodorant for a pregnant mom with a super sensitive sniffer and throws-up at the smell of even the mildest of scents.
I'm dead serious.
Works great!
Aches & Pains:
We're big fans of baths in this house and when you get sick, your whole body can hurt. Nothing feels better on achy muscles then a nice soothing hot bath. A trick my chiropractor taught me is to add Epsom Salt and Vinegar to a bath to relieve aches and pains.
This concoction is a natural anti-inflammatory.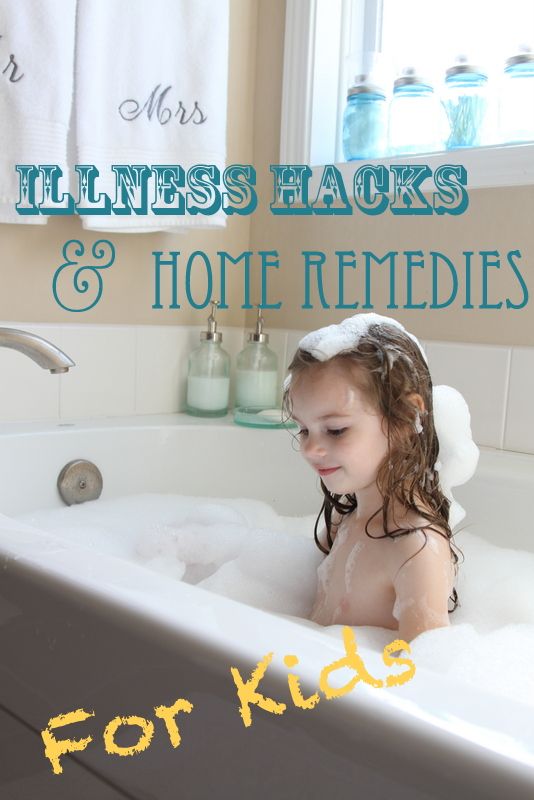 For a regular sized tub, add
2 cups of Epsom Salt
, and
2 Cups of Vinegar
(I use apple cider), then soak for 30 minutes (if you can get them to sit that long). I give my little ones a sippy cup or glass of water or juice to drink while they're in there so they stay hydrated. Add toys to make it fun, or jump in too. I find my 4 year old daughter will stay in longer if I'm in her detox bath with her and we play with her water barbies.
This works GREAT when my little ones are having growing pains as well. Then after the bath, apply an ice pack to whichever parts are having the growing pains. Soothes without the need of pain medicine.
For a nasty diaper rash, ditch the vinegar and instead add baking soda. It soothes tiny hineys and will help soften the skin. When they get out, add a glob of
Boudreaux's Butt Paste
and by morning that little bum will look worlds better!
Man I love that stuff!!
So there you go, just a couple Illness hacks and home remedies to help you and your little ones out this cold and flu season.
Happy Creating Everyone!!