Before:
Guest/Art/Catch-All/Hoarders Room
(granted this picture was taken after the clean-out had begun, it always looks worse before it looks better)

Found the perfect soft baskets for her changing table
(ah...perfect fit too. I love it when that happens)
How do you get a one of a kind custom nursery?
Become a sewing fool!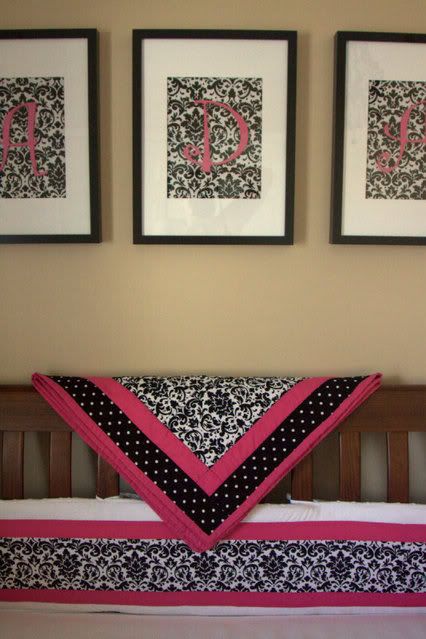 It took me 3 hours to make her quilt.
An entire day to figure her curtains out, but only about 2 hours to actually make them
(my pregnant mind is incapable of doing math it seems)
It took me 8 hours to hand-stitch that bumper pad.
I now understand the statement "worked my fingers to the bone".
For her artwork I went a little less artistic and more crafty.
A touch of extra damask fabric, 3 matted frames, some wood letters, hot pink spray paint and...
Custom Art!



This thing almost defeated me...
Almost!

First, they didn't have it in stock and said they'd re-ordered it a couple times but the company just wouldn't send any more.
I got a rain check and they told me they'd call when/if it came in.

4 weeks later and still no call.

Found other ones, but couldn't bring myself to spend $300 on a chandelier for a baby's nursery.
I was in the store the other day getting the last things I needed for her artwork and just happened to check the lighting aisle.

There, on the shelf I see it.


Everything else goes dark and blurry.
A spot light shines on the glowing chandelier,
And
MO-TAB
starts singing "Hallelujah" in the background.
I'm elated!
(oh and thanks for the "call when it's in stock")
I attempt to purchase it, handing the lady my rain check when she points out that the rain check has the wrong price on it.
Then I point out that
she
is the one who originally wrote out the rain check for me.
She says that she can give it to me for that amount but I wouldn't be able to return it.
"Are you planning on returning it?" She asks.
"Not unless it's broken."
Some haggling, children running around noisily and chaotically, frustrating the lady with sideways glances and deep sighs, me doing nothing to remedy it
(on purpose)
and I end up getting the Chandelier for $19.99 .
I never thought I'd be thankful for children who lose all sense of how to act normal in public.
The Mr. comes home and I smother him in kisses and hugs and with batting eyes while rubbing my enormous belly I hand him the chandelier.
He laughs then takes it upstairs to install.
Turns out it's not a normal light fixture, but a hanging lamp, with a normal plug and everything.
It comes with 2 lines of installation instructions.
1. Screw hook into ceiling.
2. Hang light on hook

Gee thanks!
If only it said that ON THE BOX!!
(which it didn't)
Now of course I'm unable to return it.
No worries though.
My amazing Mr. put his genius mind and engineering degree to work.
Some mathematical calculations, electrical ingenuity, spare parts from Eden's old light fixture and...
TA-DA!!
The perfect Chandelier is once again PERFECT!
There is no end to this man's amazingness!
The Mr. thinks it's a little "goth", but works.
I think it's completely Haute Couture and love it oh-so much.
Her whole nursery turned out exactly how I pictured it.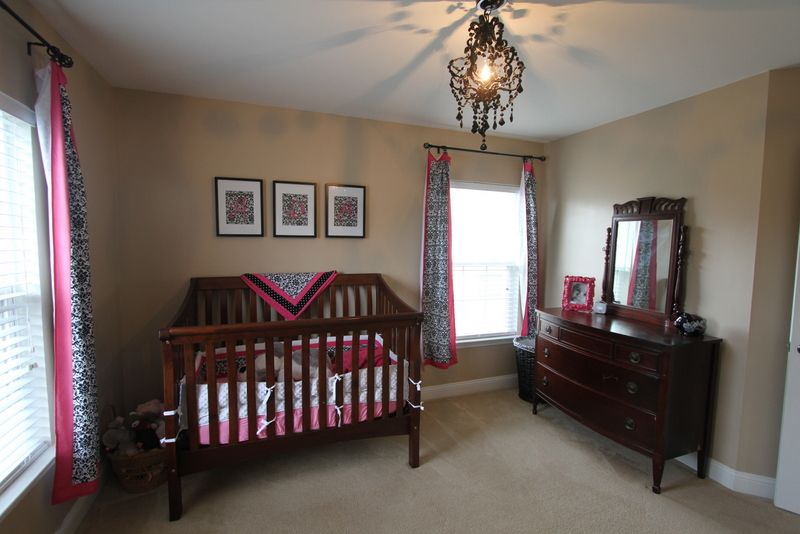 Ah, I love it when that happens!
Happy Creating!!