Recently I got a phone call from my good buddy
Gentry White
who is currently dazzling us all with his talents out in LA.
Christmas was approaching and his mother had been in a bit of a slump and he just so happened to have thought of the perfect gift for her. What he needed was someone to put it together and make it fancy. Well, my friend, you have come to the right place ;)
Gentry sent me an email with all the information.
Let me just tell you I was floored.
Absolutely amazed!
What I received in that email was the kindest and most thoughtful idea I could've ever imagined.
He truly gets "Son Of The Year" for this one!
Now as you read through and look at the pictures please remember that all of the ideas are Gentry's. He thought of all of this, the idea, the name, the tasks...everything. All I did was gather and organize materials into the gift, type it up so it looked official and make it fancy and pretty.
Team Elysium: A Gift of Service
First she received a gift box with an envelope attached.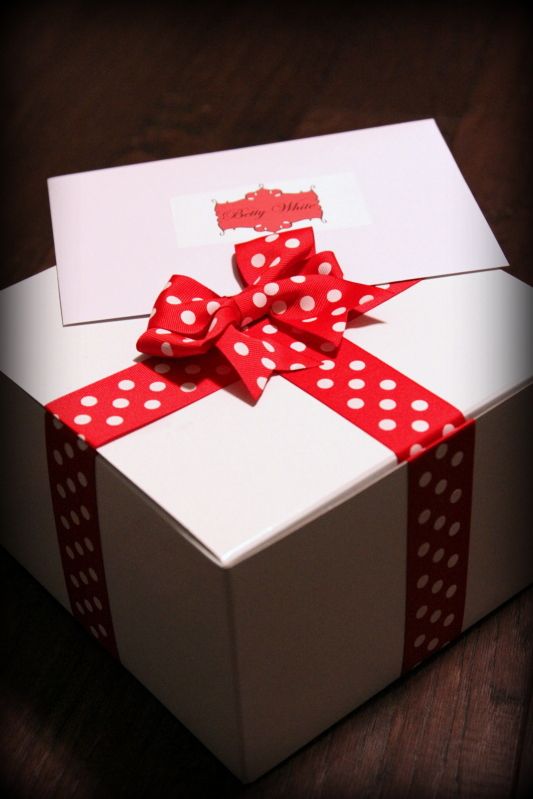 Inside the envelope was a letter.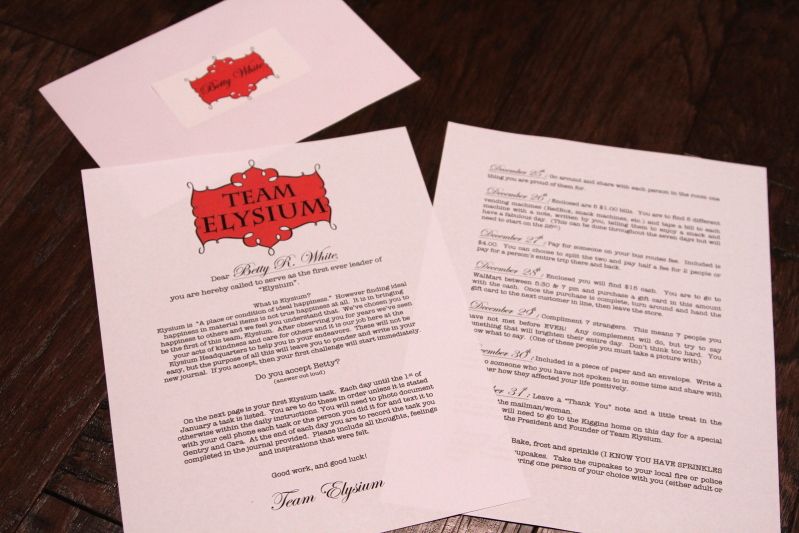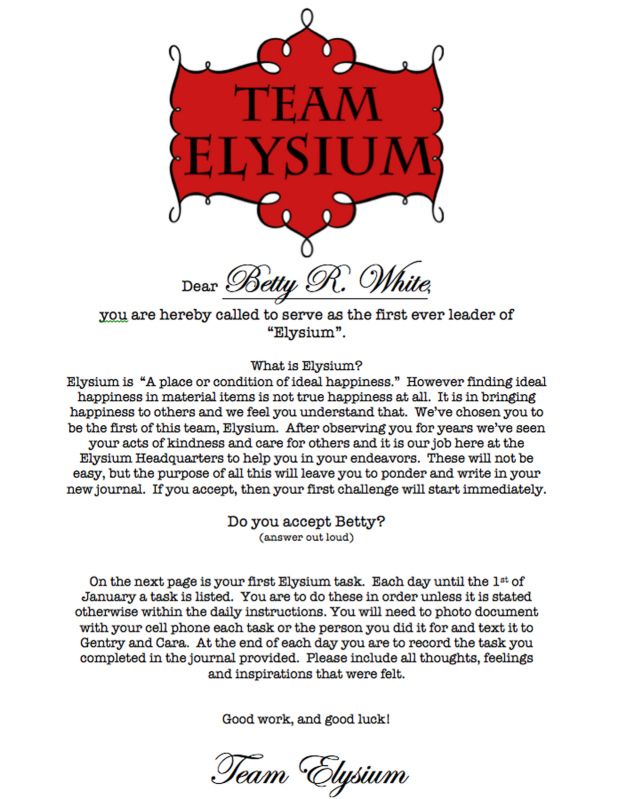 Inside the Box were all the supplies she needed
(plus a journal which I forgot to stick in the pictures, but did include in the gift)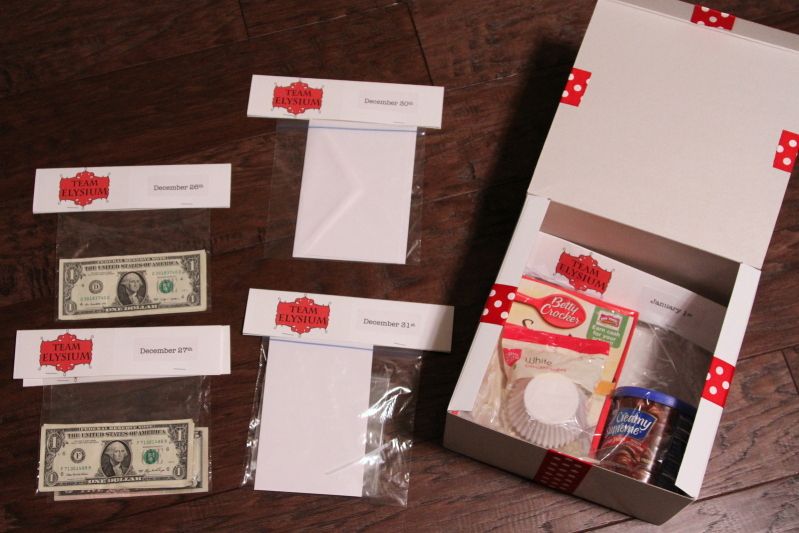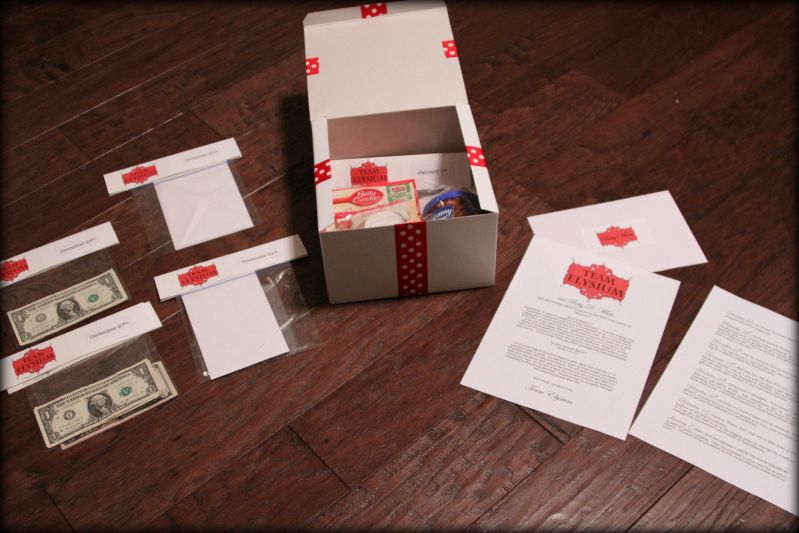 And she was ready to begin!
I was lucky enough to have her share with me her experiences and pictures she took.
She said she laid everything out on her dining table so she could look at it everyday.
And probably to remind herself what an incredible man she raised!
The "Vending Machine Task"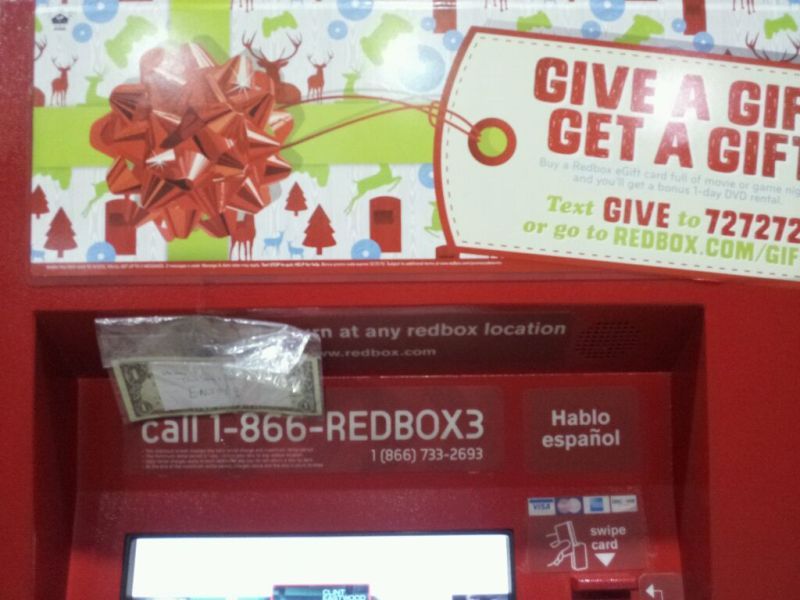 A quarter on the carts at Aldi
Laundromat (I loved this one!)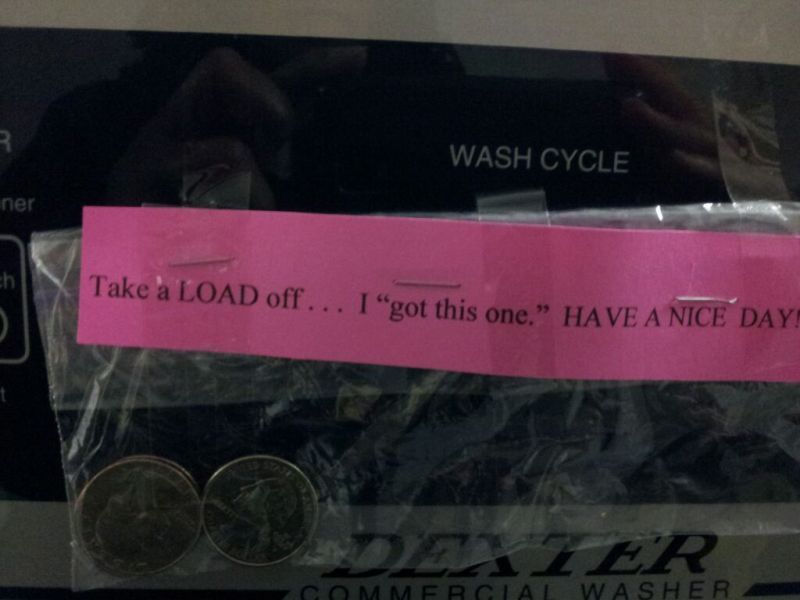 One of the compliment recipients: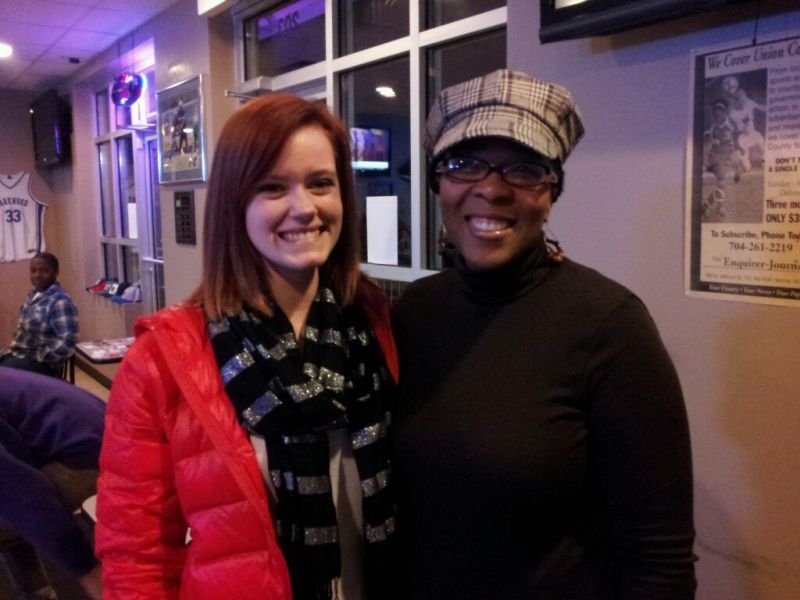 Betty loved her puffy red coat and matching sparkly dorothy of oz shoes.
Not to mention her infectious smile!
Fare box on the bus:
Goodies for the mailman: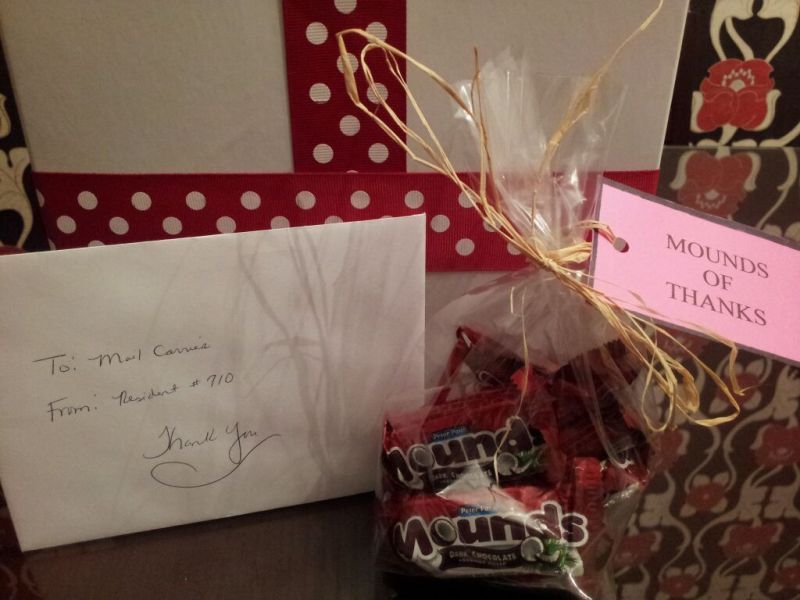 Betty chose to take her nephew K.J. with her to bring cupcakes to the firemen. K.J. wants to be a fireman himself when he grows up so this was better than Christmas morning for him.
What.
A.
Doll.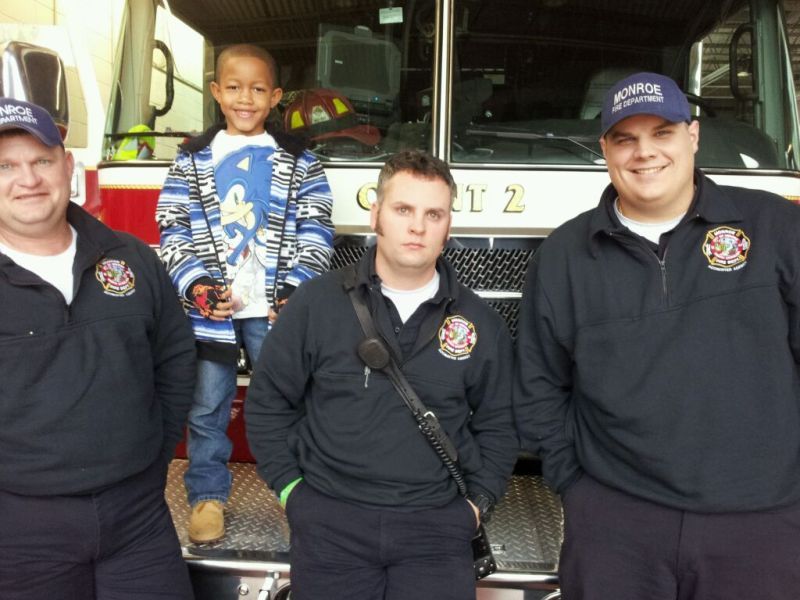 Part of Betty's tasks were to come to my home for a special message from the "President" of Elysium. Gentry arranged with me to have a video chat with his Mom so he could see her face and hear first hand about all of her amazing experiences throughout the week.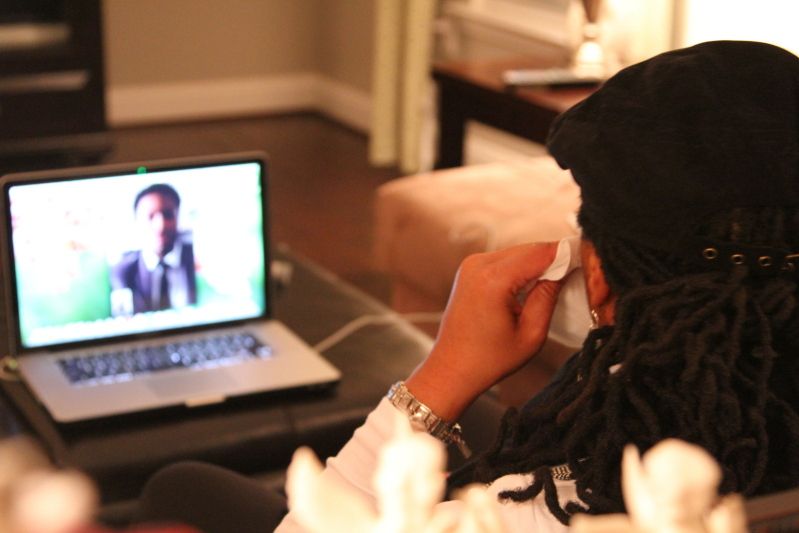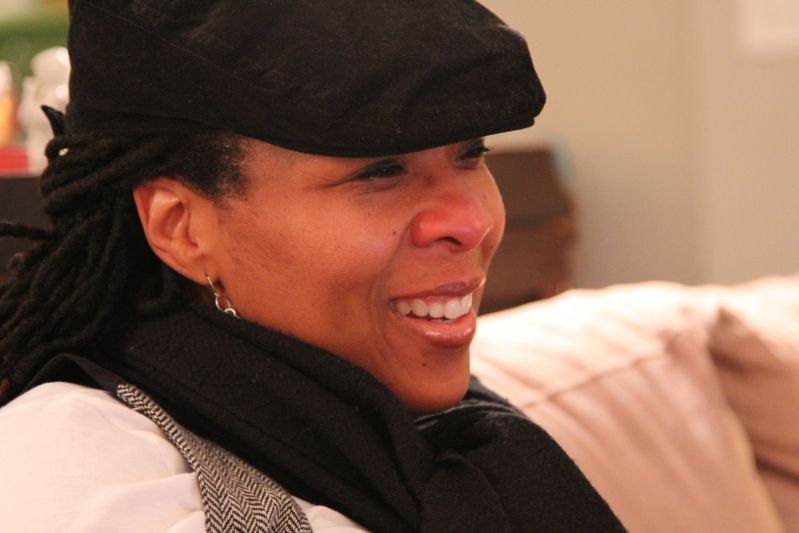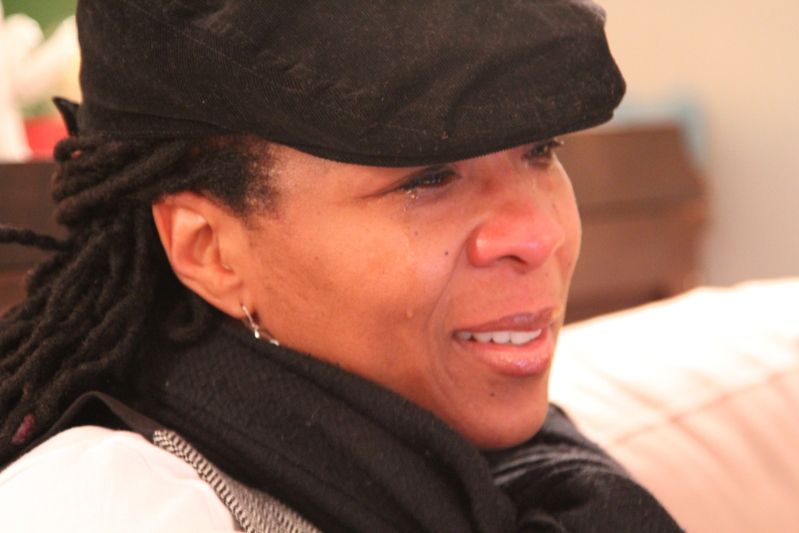 It was truly incredible!
And exactly what she needed to pull herself out of her funk and go out and make the world a better place.
I feel so blessed to have such amazing people in my life!
Gentry, to say you are incredible would be a vast understatement. Words can't describe how infinitely proud of you we are!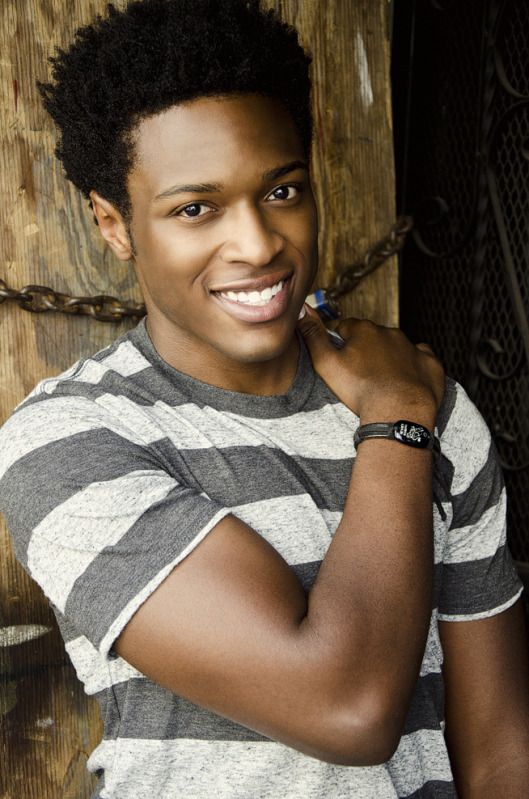 You can follow this amazing young man's talent and journeys by joining him on
Facebook HERE
and
IMBD HERE
and
Vimeo HERE
HAPPY CREATING EVERYONE!