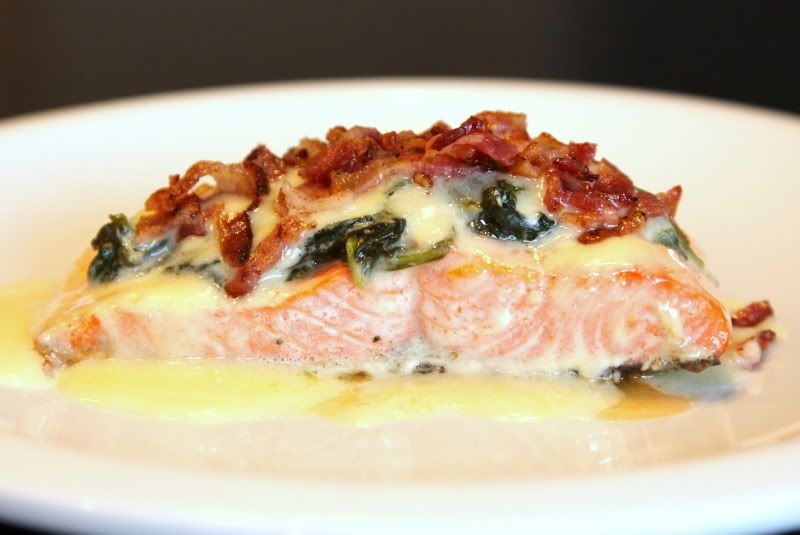 YUMM!!
Ingredients:
4-6 8 oz. portions Salmon Filets
4 Cups Raw Spinach
2 oz. Olive Oil
Salt (pinch)
8-12 oz. (2 oz. per fish portion) Crumbled Gorgonzola Bleu Cheese
4-6 Tbsp (1 Tbsp per fish portion) Bacon (diced, cooked)
4-6 oz. (1 oz. per fish portion) Lemon Butter (see below for recipe)
Preparation:
Season Salmon and cook to desired temperature.
After you place the salmon on the grill, sauté the spinach with olive oil, garlic and a pinch of salt.
When salmon is almost done, top with sautéed spinach and crumbled Gorgonzola cheese. Cover and allow cheese to melt. Pull salmon off the grill and place on a serving platter.
Top with lemon butter and cooked/diced bacon.
Lemon Butter Sauce Ingredients:
1/2 Cup Dry White Wine
1/4 Cup Heavy Cream
3 tsp. Salt
3 Tbsp Lemon Juice
10 Tbsp Unsalted Butter (Chilled)
Preparation:
Simmer wine and lemon juice for 15 minutes.
Slowly add cream and cook until slightly thick.
Turn heat to low and slowly whisk in chilled butter until the sauce emulsifies.